Crunchyroll Brand Evolution 2015-2018
When I joined Ellation in 2015, Crunchyroll had never approached their brand in a holistic fashion. The brand, as it was, was entirely organic - having been built, in large part, by its audience. There was an obvious challenge in trying to capture and codify something so amorphous, but there was also a strong need to do so. At the time, Crunchyroll had built its audience to 650k paid subscribers, and was on the cusp of growing much, much larger. The brand would need to amplify its tonality in order to broaden its appeal and to maximize that growth.
I set a schedule of yearly brand design refreshes; the idea was to create a regular audit, analysis, and implementation cycle. Insights from previous iterations could then be used to inform future decisions. The frequency was important in order to remain responsive as the product grew.
The first brand refresh rolled out through 2016. To that end, we created a marketing-focused style that had relatively few common themes so it could be applied to wide variety of applications. The tonality was deliberately more intense - poppy, punchy, and saturated were the key attributes. More broadly, the goal was to experiment as much as possible to see what would stick with our audience.
2016 Video Creative
Concurrent with the work I was doing on our static assets, I also pushed my team to expand our video efforts. We needed video creative that would seem in place with our mainstream competition.
2016 Mini-Campaigns
Part of addressing the overall brand tonality involved bringing much more attention to our smaller campaign efforts, but also working with our various business units (like our e-commerce and content management groups) to bring more attention to their initiatives.
Design is always an iterative process, so for 2017, I wanted to try a more strategic approach. While the previous year had been about breaking out and making some visual noise, 2017 was going to be focused on refinement. This was the first year Crunchyroll's brand design would be consistent across all touchpoints - on-channel, off-channel, social, events, OOH, and so on.
2017 Brand Placements
Crunchyroll has always maintained a robust convention presence. But 2017 was the year we launched our first branded O&O event - Crunchyroll Expo. My team supplied all the branding and design services needed to make our maiden voyage a success.
2018 Global Brand Refresh
For 2018, we decided to do something more ambitious again. This time we dove deeper - modifying the logo, and introducing a new palette. We wanted to Crunchyroll to look more mainstream, and with 2 million paid subscribers, we were now in the mainstream. Not only that, we were also becoming an international brand, so we delivered this redesign in 8 languages.
Logo Modification
For 2018 we decided to simplify the main logomark. Previously it had a been a two-tone logo, which creates difficulty in implementation, in order to streamline the brand, we changed to a monotone logo.
New Colors, New Fonts, New Shapes
Beyond the logo, we also modified the brand palette and introduced a new geometric vocabulary.
Crunchyroll Anime Awards 2018
Anime Expo Crunchyroll HQ
Crunchyroll Expo 2018
2018 was the second year for our branded O&O convention - Crunchyroll Expo. My team branded the event and supplied all the collateral - digital marketing, video, out of home, merchandise designs, microsite, etc. We even wrapped the entire front facade of the San Jose Convention Center!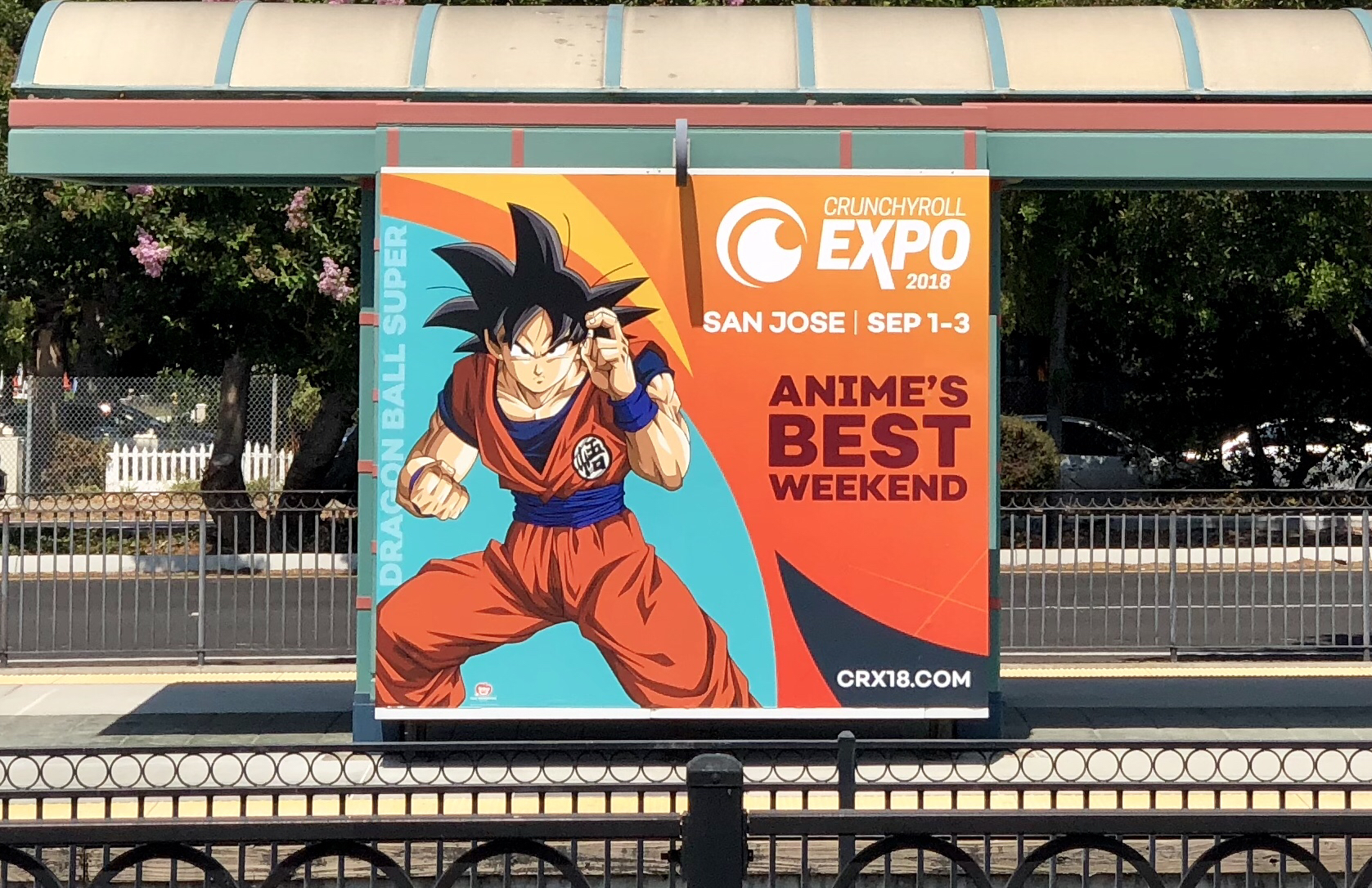 Crunchyroll Expo Convention Wrap
Crunchyroll Expo Microsite
Crunchyroll Expo Merch Designs